I have to admit, I'm a real kid when it comes to planes and cars so when Emirates asked me to photograph a Boeing 777 and a Mercedes S-Class on the tarmac at sunset I got more than a little excited. We had just finished shooting the first Class Cabins earlier in the week which were also inspired by Mercedes. After sitting in the brand new S-Class and the new First Class cabin I am officially extremely jealous of anybody lucky enough to fly Emirates First Class.
After arriving at the airport and checking the camera equipment through security my first job was to decide where I wanted to put the aircraft. Now I have to admit that this was the first time in my career that I have ever been given a Boeing 777 to place anywhere I wanted so I had to pinch myself a couple of times. Now you can't just plonk a Boeing 777 anywhere. The runway would have been nice with all the coloured lights but I don't think Dubai Airport was going to shut down for me. It might have been possible to use one of the outer taxi ways but we would need to apply for permission to close it for an hour and the sun was moving rapidly.
Fortunately the aircraft looked really good on one of the stands that we chose earlier. The terminal building in the background mirrored the shape of the wing and it worked really nicely as a composition. I also knew that I would have a really nice warm catch light on both the aircraft and the car.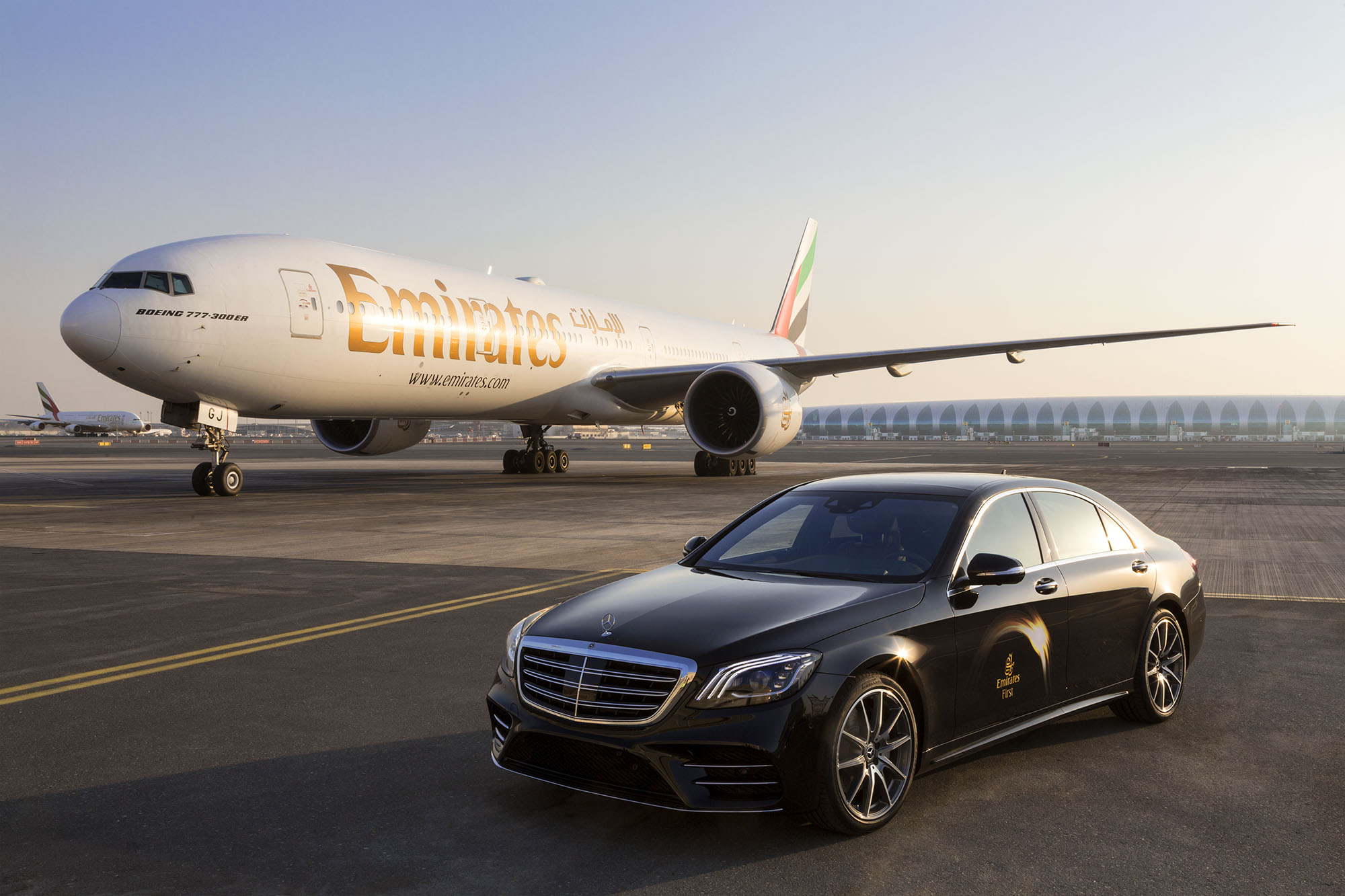 For the night time shot I decided against shooting straight into the sun which would give me a big red sky because as I was shooting without lights I needed every bit of natural light to bring out the detail in the car and the aircraft. I also preferred the sky to graduate from warm tones on the right to a rich blue on the left of the frame. After looking at several camera heights I chose to go with a position slightly higher than eye level, that way the terminal sat nicely in its own space above the car roof and below the wing. From then on it was a question of getting the engineer onboard to light the plane up like a Christmas tree and wait for the light.
Dusk shots can be tricky because the sweet spot of perfect light lasts only a few minutes. You have to get everything ready and work really quickly. Its also a really good idea to shoot images quite some time before as these frames are really useful to use in the post production to help, for example, fill areas of detail or remove tricky reflections. With a shoot like this in the airport I had no control or knowledge over when the flood lights from the nearby hangers would turn on. This would have killed the shot with bright orange light so I might have been forced to use an earlier exposure. Fortunately this didn't happen but it illustrates the best advice I could ever give for this a shoot like this is to cover all your bases, to think of everything that could go wrong. With professional photography you simply have to get the shot, no excuses.
I will always love the buzz you get when you know you have finished a shoot, Its what has kept me going throughout my career, its like a natural drug. Walking away from a shoot thinking about how you will bring together the jigsaw of frames you shot into a single vision. Just wanting to get home as soon as possible to work on the image. Shooting on film used to kill me because it was such a long drawn out torture of chemical processes before the magic eventually revealed itself but digital is so immediately gratifying. Thats why photographers are always checking their cameras every other shot. I think its like having a big packet of double cream Oreos, you just can't stop yourself.